For some of us, the transition to work from home is easy. But for others, it is a whole new experience – especially when their entire team is transitioning to remote working. And thanks to COVID19, many of us now have children at home 'online learning' at the same time! These tips may also apply to them:
Communication
There are many ways teams can keep in touch, to avoid feelings of disconnection. Try to establish a means of communication with your teams, and how often. Online platforms that allow video/ web conferencing and team chats can help us keep in touch. Video conferences allow us to see eachother's face and this assists greatly in the feeling of connection. Why not have virtual lunch meetings, allow time at the beginning of meetings for casual conversation, or even share Friday afternoon drinks online?
Some other considerations:
Access to high-speed internet
Access to information and resources and how they are stored and shared
Access to webcam on computer / laptop – turn it on!
Mobile phones with hotspots (for when the high-speed internet is struggling!)
Treatment of secure information to ensure sensitive information is discussed in a private setting
Office and workstation Setup
When working from home, try to create an inspiring, ergonomic work environment.
Ensure you treat the day like a normal workday – get up and exercise as usual, get dressed and start work at usual or agreed times. It's hard to feel professional in your pjs!
Avoid using your computer, reading or writing whilst slouching in bed, sitting on a couch or lying on the floor. If we hold incorrect posture for too long, our muscles can be overloaded and this results in pain.
Try to take regular breaks – every 30-45 mins to stretch and get some fresh air
Have a dedicated room or space at home that you can work in, away from distractions in your living spaces if possible. Ideally it should have good ventilation and a source of natural light.
Consider your background – what will others see behind you while on video conference calls?
Equipment you may need:

Additional monitor
Monitor stand to raise your laptop
Footrest
Table lamp for focused work
Cable management basket to remove clutter from your desk
If you're like us, you will want your space to look good, be ergonomic and inspiring! Our very own Interior Designer, Lisa Houston offers her thoughts on creating the best home office:
" For me, the home office space needs to be free of clutter and well lit,  with elements of inspiration including plants, aspirational pictures or small personal decorative pieces. 
The space should be a reflection of both your personality and your work ethic. Colour plays a great part in our mood so I choose to keep the space light and bring in colour and texture using visually natural surfaces such as Oak and live plants.
Organisation is key.. so ensure you have adequate storage space which may include shelving units,  or a custom credenza.  My office should always be ready for a drop-in client or a virtual coffee meeting.
Correct Desk Posture
Whether you have a fixed-height desk or a height adjustable desk, it is important to ensure you maintain good posture. This will help prevent neck, shoulder and back pain. Be conscious of your posture and not falling into poor working or studying habits.
Consider:
Height of monitor – you should not need to tilt your head, but look straight ahead
Height of your desk – your feet should be flat on floor and elbows at right angles
Try not to slouch. Sit or stand upright and try to keep your head from bending forward
If not, adjust height of your chair or use a footrest
If you have a height adjustable desk – adjust the height accordingly.
If you are used to a height adjustable desk, a desktop height adjustable workstation may be a cost-effective solution for home. It could be used on an existing desk or table.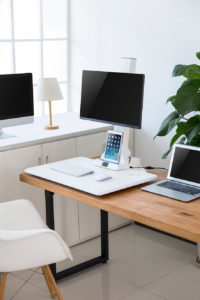 To see our range of these from Ergovida, Humanscale and Standesk, click here.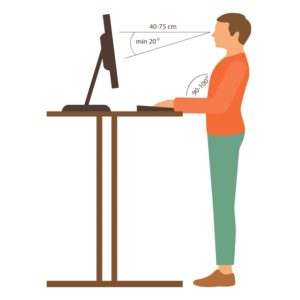 Correct standing posture with standing desk
For more information on the correct a standing desk use of task chairs click here and Height Adjustable Desks, click here:
Our friendly team is here to advise you on the set up of your home work space – and we can do it over the phone or online.  Call us now on 9873 8484 to arrange a confidential consultation or send us a line via our Contact page.